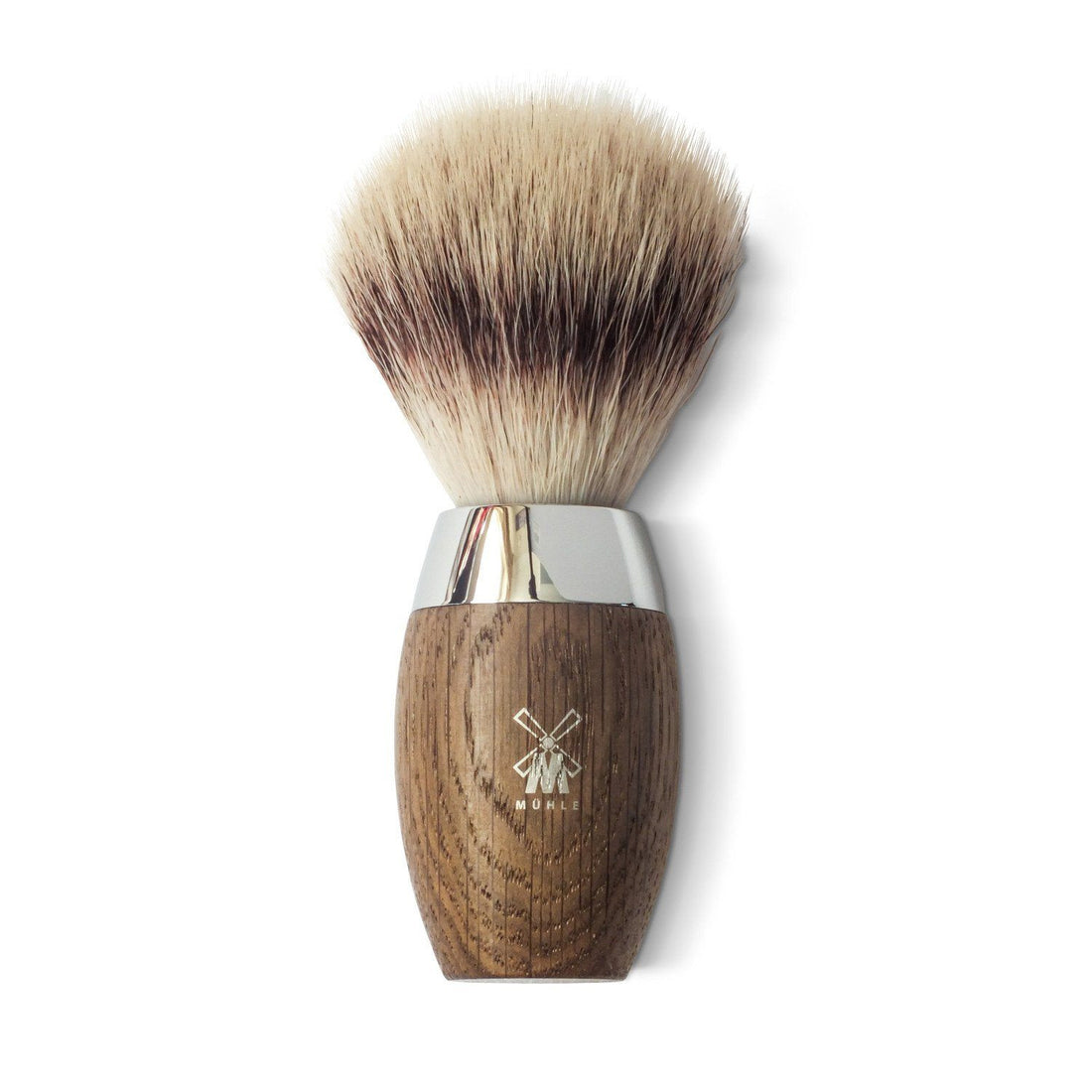 Muhle Kosmo Silvertip Fibre Shaving Brush with Bog Oak Handle
This unique shaving brush from Muhle is a piece of history. The handle is made from wood that sank into a bog centuries ago and is incredibly rare due to the scarcity of the tree trunks that have been preserved in this way. Some trunks used are up to 3,000 years old. Each piece has been carefully polished over multiple stages using fine oils to seal it and leave a silky, matte finish. Due to the unique nature of this product, each handle varies slightly in colour ranging from brown, dark-brown to black-brown. Finished with a chrome-plated ring at the top, this is a truly beautiful shaving brush that would look good in any collection.

The synthetic Silvertip Fibres used in this brush are unique to Muhle. Designed to mimic the very finest quality of badger hairs used in high-end brushes whilst being vegan friendly and easier to maintain. But this brush isn't just for vegans! The tips are incredibly soft whilst retaining a more stable middle section meaning a luxuriously soft feel on the skin but with enough backbone to easily create a dense lather. The sheer quality of the synthetic fibres in this brush has many experienced wet shavers preferring it to the natural hair alternative.

Another bonus of using synthetic fibres over natural is that they dry more quickly and are resistant to soaps and creams. Natural hairs can get damaged if they are not left to properly dry out between uses and soap can build up, impairing their effectiveness.
The brush is stylishly presented in its own padded display case. The brush head can be unscrewed and replaced with ease.
Matching Set
Buy together with the matching Kosmo Bog Oak Safety Razor
Looks fantastic when placed in the Kosmo Razor and Brush Stand RHM87
We ship worldwide!
Subscription orders:
Free UK delivery for all subscriptions
Shop Orders:
Free UK delivery for all orders over £60.
All orders:
International delivery prices vary by region - calculated at checkout
Orders placed before 12pm GMT Monday to Friday are shipped the same day.
Orders placed over the weekend or on Bank Holidays will be dispatched the next working day.